BDR and Icom came away double winners at the Pragma's Annual Conference.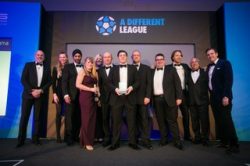 The event was held on Thursday, 1 March at St George's Park, the home of  the Football Association.
Also some lovely words from Will, Director at Pragma –
"I just wanted to send an email to say a massive congratulations to you and the team on the awards.
"Two awards for the second year running and an outstanding performance with huge growth. We hugely appreciate all of the effort that the whole team put in to marketing, selling, installing and supporting iPECS and So Wifi solutions." 
Bring on next year!